What you are looking for is
ASTM A778 400mm 500mm 600mm Large Diameter Stainless Steel Fluid Pipe
If you are still suffering from the inconvenience caused by the corrosion and cracking of the pipeline, or you are suffering from the failure to find a suitable stainless steel industrial tube supplier. Please read the following content in 3 minutes. I hope it can be helpful for you.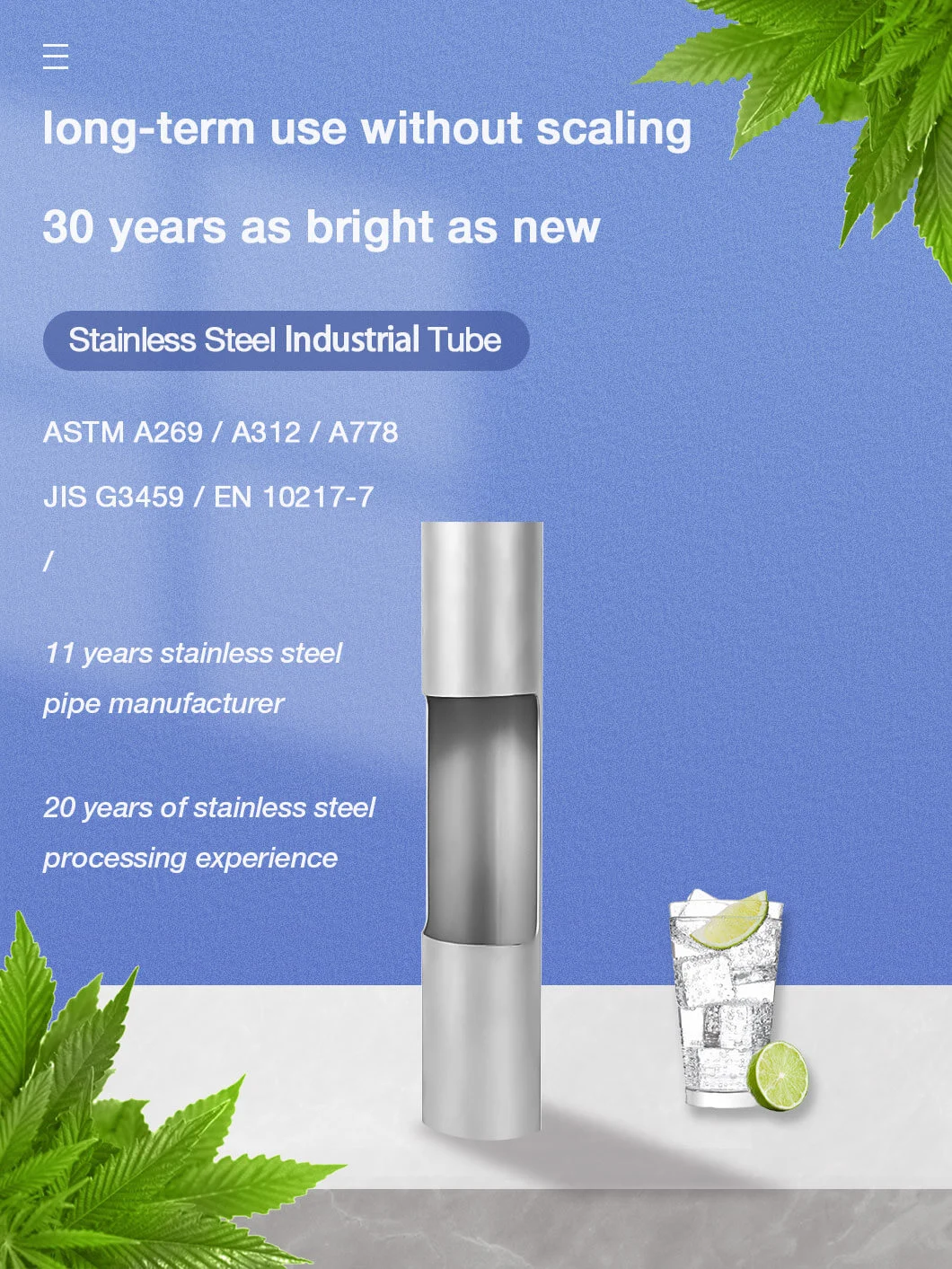 Guangdong Yaolong Metal Technology Co.,Ltd is located in Foshan City,China.It is a modern enterprise which integrates R&D,design,production and distribution,specializing in the field of stainless steel & aluminum light poles,stainless steel & aluminum flagpoles,stainless steel bollard ,stainless steel welded pipes and fittings.

Our stainless steel weld pipes and fittings are not only sold to domestic markets,but also exported to many countries like Australia,Canada,Germany,Holland,Russia,Saudi Arabia,Spain,the United Kingdom,the United States,UAE,etc.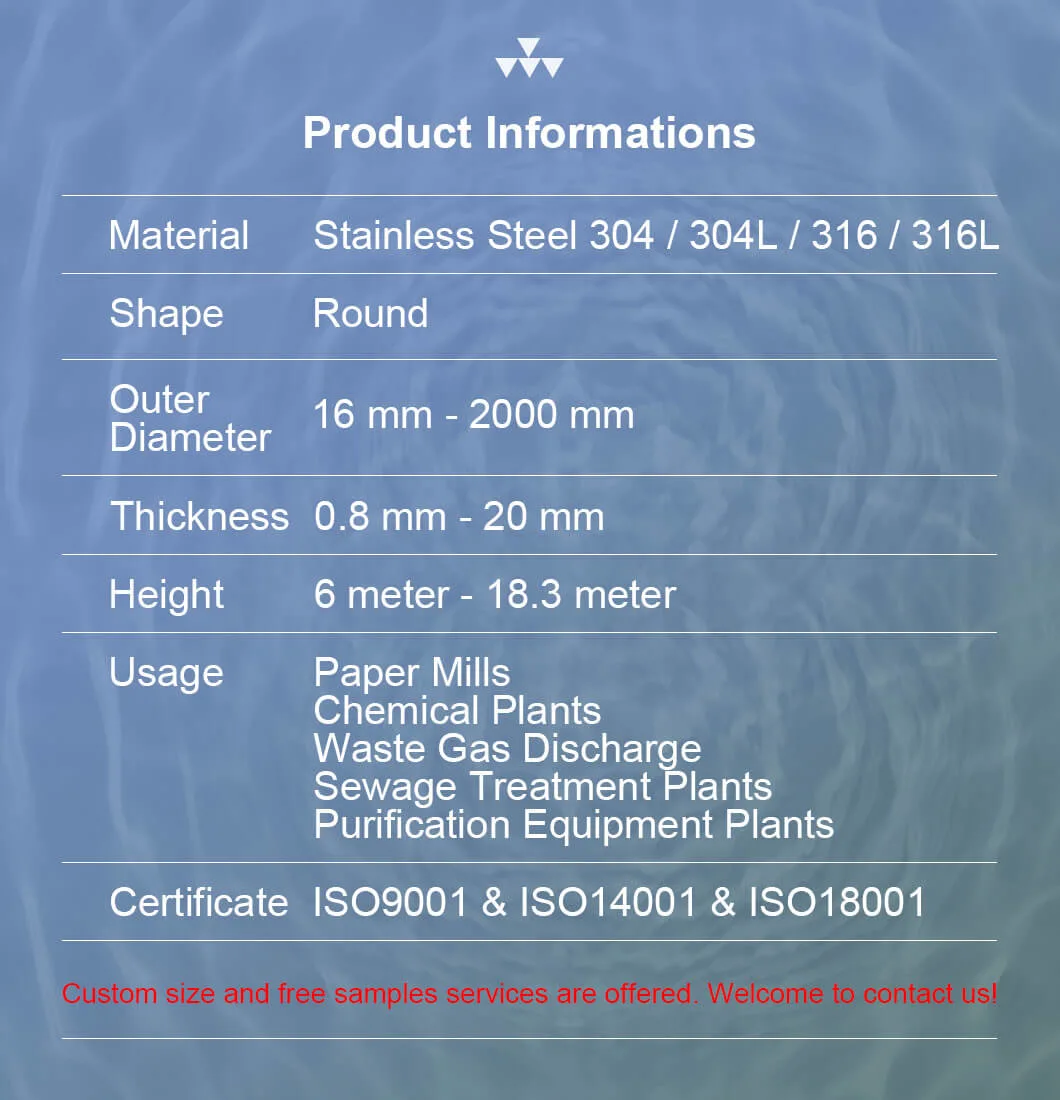 Material

Stainless Steel 304/304L/316/316L

Shape

Round

Production Standards

ASTM A269, ASTM A312, ASTM A778, EN 10217-7, JIS G3459 and so on.

Size

Outer diameter = 16 - 2000mm ;




Thickness = 0.8 - 20 mm ;




Length = 6 - 18.3 meter ;




Or as customer' s request.

Tolerance

According to the Standard , +/-10% Commonly ;

Surface Treatment

Mill Finish; Bright Anneal; Pickle

Process Characteristics

Inner Welded Seam Removed ; Online Bright Solution Anneal ; Inner Electro Polish And Mechanical Polish ;

Application

Paper Mill; Carton Factory; Purification Equipment Factory; Chemical Industry; Waste Gas Discharge; Sewage Treatment Plant and so on.

Test

Squash Test; Extended Test; Water Pressure Test; Crystal Rot Test; Heat Treatment; NDT

Design

OEM / ODM / Customized

Certificate

ISO9001:2015; AD 2000W0; PED 2014/68/EU; SGS
ASTM A312/ASTM A778 Specification

Nomina Diameter

Outside Diameter

Nomina Wall Thickness

mm

inch

mm

SCH 5S

SCH 10S

SCH 20S

SCH 40S

350

14

355.6

3.96

4.78

7.92

11.13

400

16

406.4

4.19

4.78

7.92

12.7

450

15

457.2

4.19

4.78

7.92

14.27

500

20

508.0

4.78

5.54

9.53

15.09

550

22

558.8

4.78

5.54

9.53

15.09

600

24

609.6

5.54

6.35

9.53

17.48

650

26

660.4

5.54

7.92

12.7

17.48

700

28

711.2

5.54

7.92

12.7

17.48

750

30

762.0

6.35

7.92

12.7

17.48

800

32

812.8

7.92

12.7

17.48

850

34

863.6

7.92

12.7

17.48

900

36

914.4

7.92

12.7

19.05

1000

40

1016.0

9.53
Dimension Tolerance Table

Standard

Outside diameter(mm)

Thickness(mm)

Length(mm)

ASTM A312

≤48.26

+0.40 -0.80

+unspecified -12.50%

Definite cut lenght




+6.40




-0

>48.26~114.30

+0.80 -0.80

>114.30~219.08

+1.60 -0.80

>219.08~457.20

+2.40 -0.80

>457~660

+3.20/ -0.80

>660~864

+4.00/ -0.80

>864~1219

+4.48/ -0.80

EN 10217-7

D1±1.50% with ±0.75mm(min)




D2±1.00% with ±0.50mm(min)




D3±1.75% with ±0.30mm(min)




D4±0.50% with ±0.10mm(min)




EN ISO 1127

T1±15.00% with ±0.60mm(min)




T2±12.5% with ±0.40mm(min)




T3±10.00% with ±0.20mm(min)




T4±7.50% with ±0.15mm(min)




T5±5.00% with ±0.10mm(min)




EN ISO 1127

≤6000:




+5.00




-0





6000~12000:




+10.00




-0

"The pursuit of quality is our persistence"
We chose austenitic stainless steels from BAOSTEEL or TISCO as raw materials. Because these raw materials have high-quality properties, the effects after surface treatment will be more diversified. Pickling, polishing, mirror polishing, satin brushing, powder coating, you can choose the effect you want according to actual needs, we will try our best to help you complete.
"Stainless steel industrial pipes with a outer diameter of 21.60mm to 1016mm meters can meet 80% of the market requirements"
The outer diameter range of the stainless steel industrial tubes that our company has currently made is 15.88 mm to 2000 mm, if you need a bigger one, we can also complete it.
"
The products we do the most are round pipes , rectangular pipes and square pipes. In this respect, our production line and workmanship are very mature."
If you need a profiled tube, please consult us with engineering drawings with parameters. Our engineers will analyze the technical difficulties and discuss cooperation plans with you.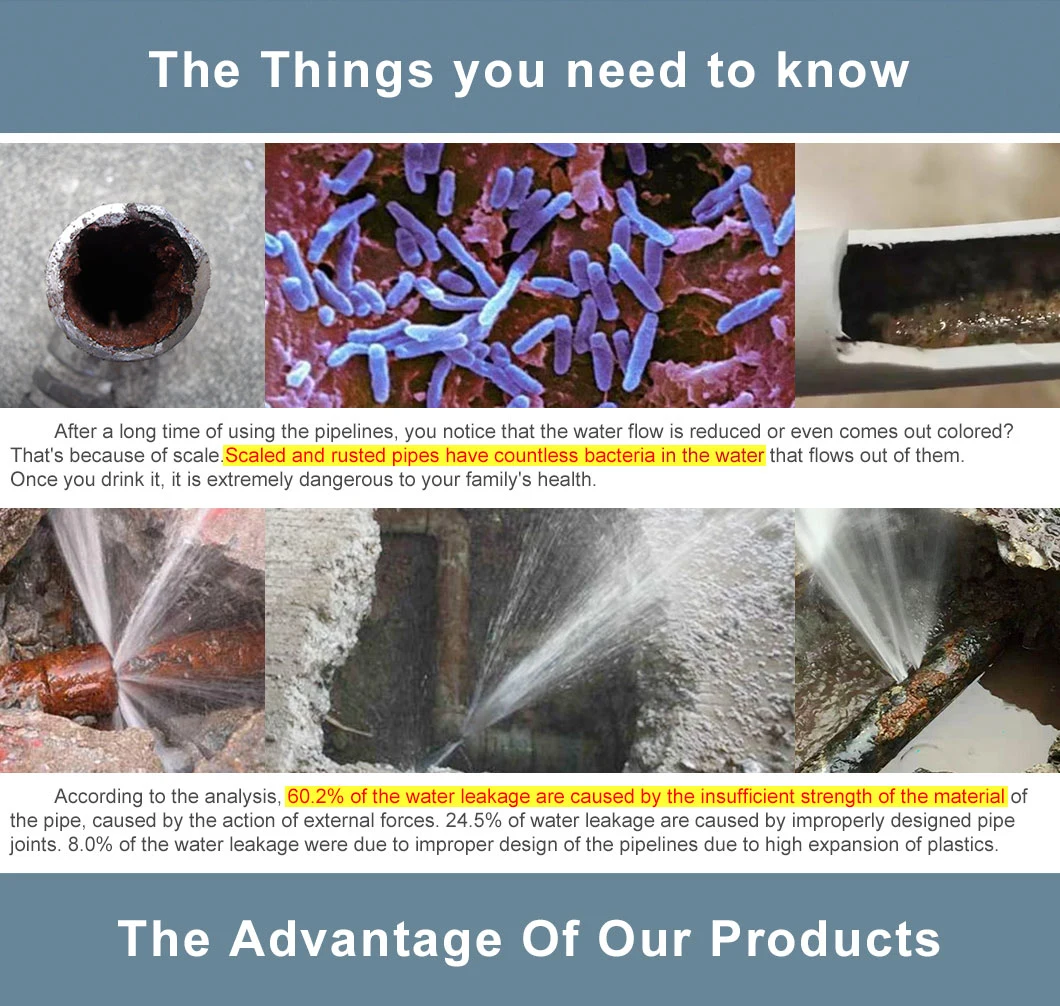 1.The inner wall of the our pipeline is smooth and not easy to scale, so it is not easy to be infected by bacteria, reduce coliform bacteria poisoning and other hazards.And it ensures the safety of drinking. .

2.Stainless steel tube is 3 times stronger than steel pipe and 8-10 times stronger than plastic pipe, which is not easy to leak. Stainless steel pipes are also resistant to damage in earthquakes because they are impact resistant.

3.Stainless steel tubing has low thermal conductivity, the thermal insulation performance is five times that of copper pipe, so it is also suitable for application in high temperature fluid.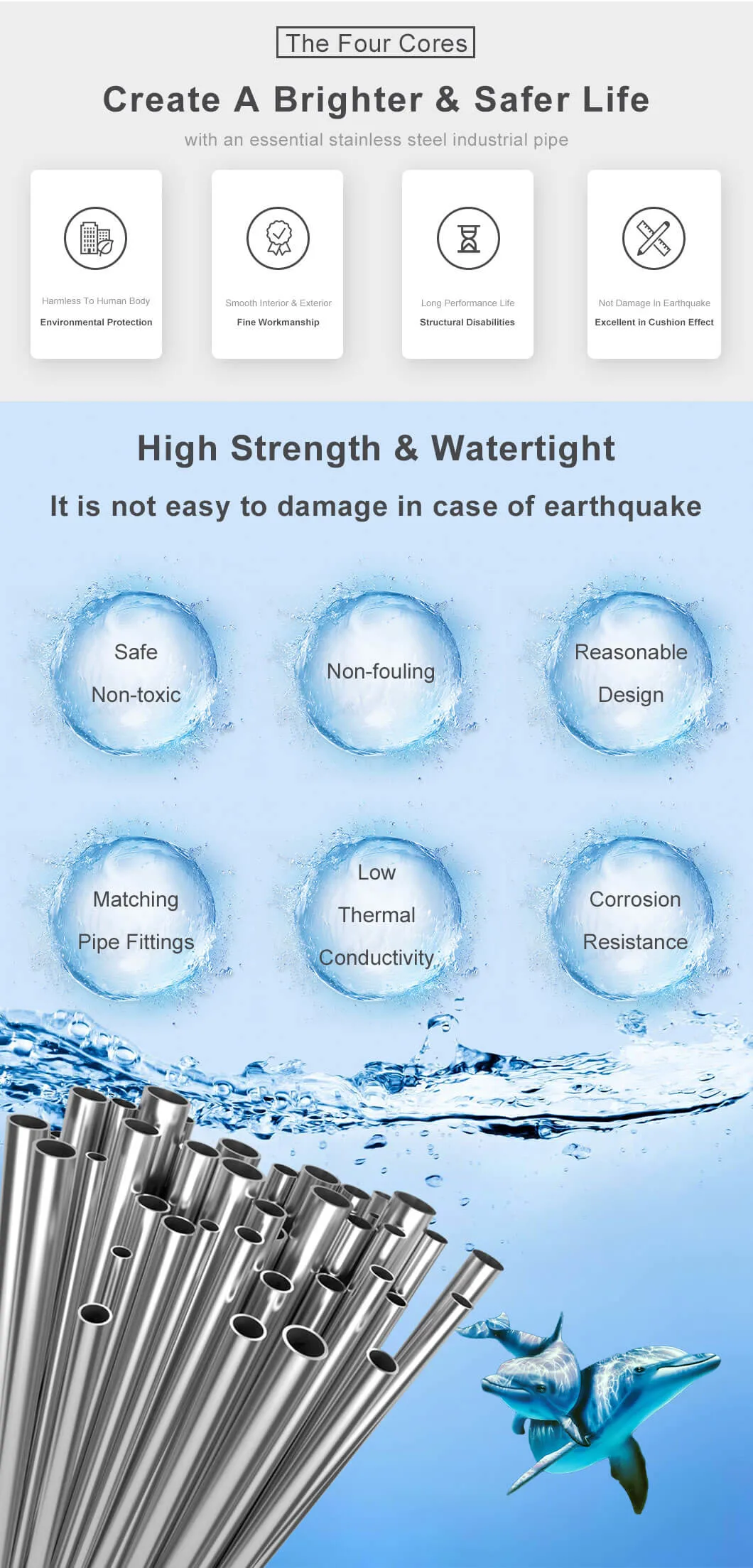 "One-stop shopping, reducing the procurement process."
We have extensive experience in providing stainless steel welding pipes and fittings for more than 118 project contractors and stockists.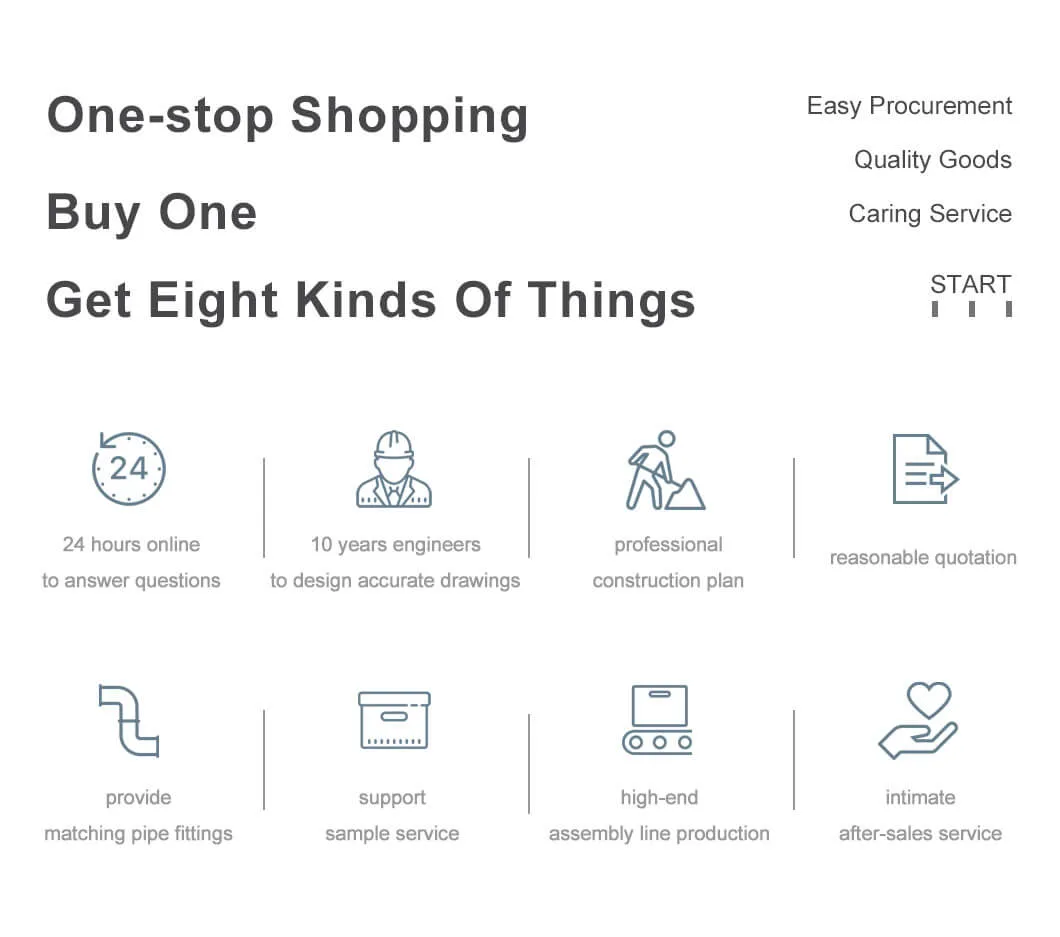 We has a complete series of advanced equipment from Germany, Japan, Italy and France, including plasma auto-welding machine, polishing facility, online inner bead removed and online bright anneal facilities etc.

The tubes, produced by our facilities, are mainly applied for mechanical industries in boiler, heat exchanger, condenser, heater. After inner and outer polished, tubes are widely used in sanitary industries of food, beverage, biology, pharmacy, beer and electron. Large diameter fluid conveying welded pipes, ranging 325-2000 mm, are commonly used in oil, chemical.

We have three factories that can be used to make stainless steel pipes. You don't have to worry about the production cycle at all.We will formulate a production plan according to the delivery time to ensure that it can be completed on time.

We have a team of professional designers, engineers and skillful welders.We can make products that meet your requirements.

Our annual production capability is more than 15,000 tons. We has been vertified and recognized as material manufacturer according to AD 2000-Merkblatt W0, PED 2014/68/EU, and TUV ISO 9001:2015 International Quality System.

The good quality and professional service help us gain many good reputation all over the world.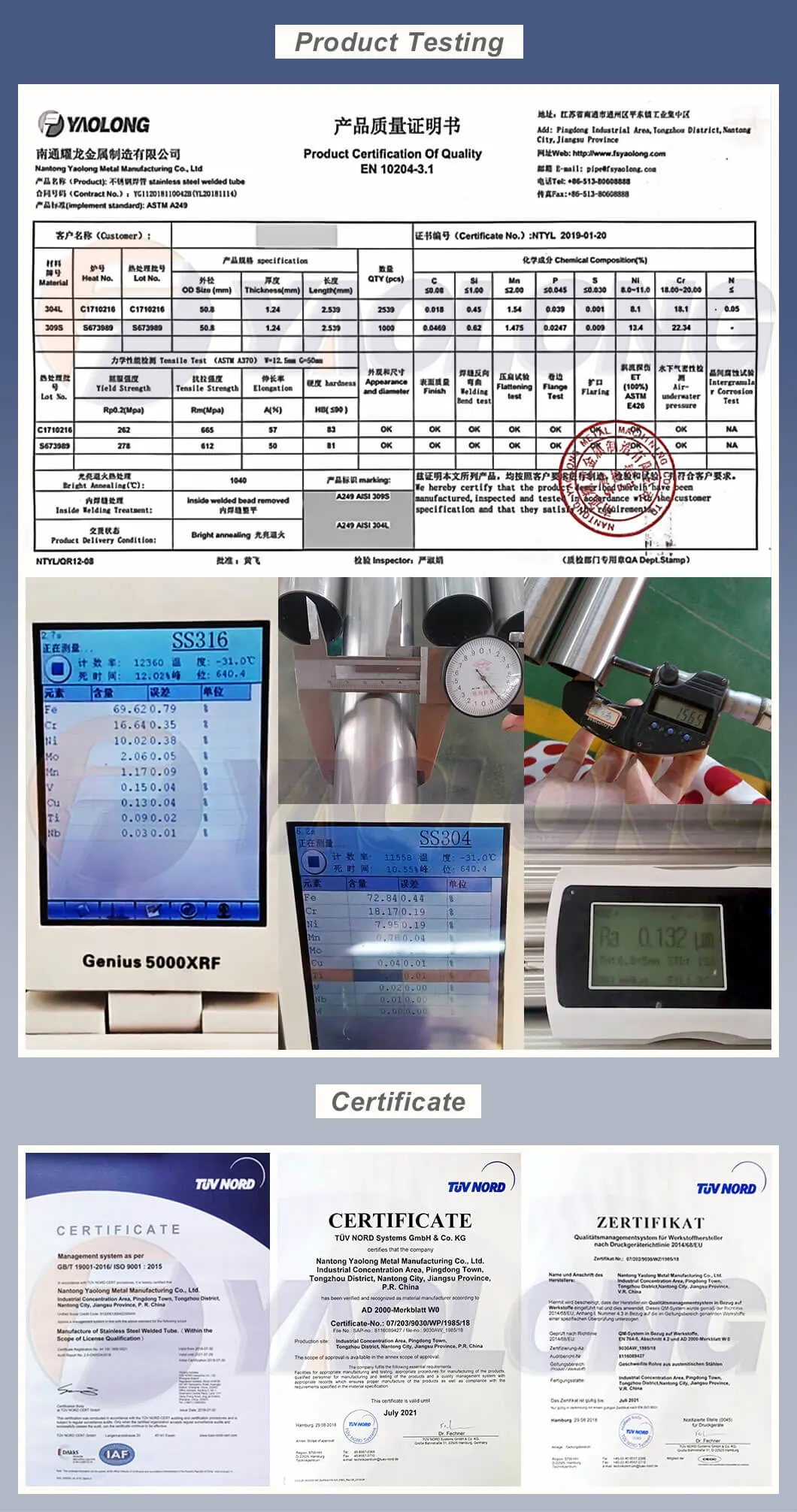 | | |
| --- | --- |
| Q1:Are you trading company or manufacturer? | We are the professional manufacturer with 3 factories. Specializing in producing welded stainless steel tube and pipe fittings, stainless steel bollard for over 13 years. |
| Q2:How long is your delivery time? | It is according to quantity. Generally it is 30 days. |
| Q3:Can you provide us sample, is it free or need to pay? | If you don't need to print your logo or other artwork on the products, we will not charge any cost, just tell us your freight collect account like Fedex, DHL, TNT. If you don't have, we need to charge Express fee properly. |
| Q4:Can I get your best price? | Our goal is to provide you the best price with great quality assured in a long run. Please leave your contact information for the best quotations, we will get back to you with the best solutions as soon as we can. |