Good Quality P92 ASTM A335 Alloy Seamless Steel Pipe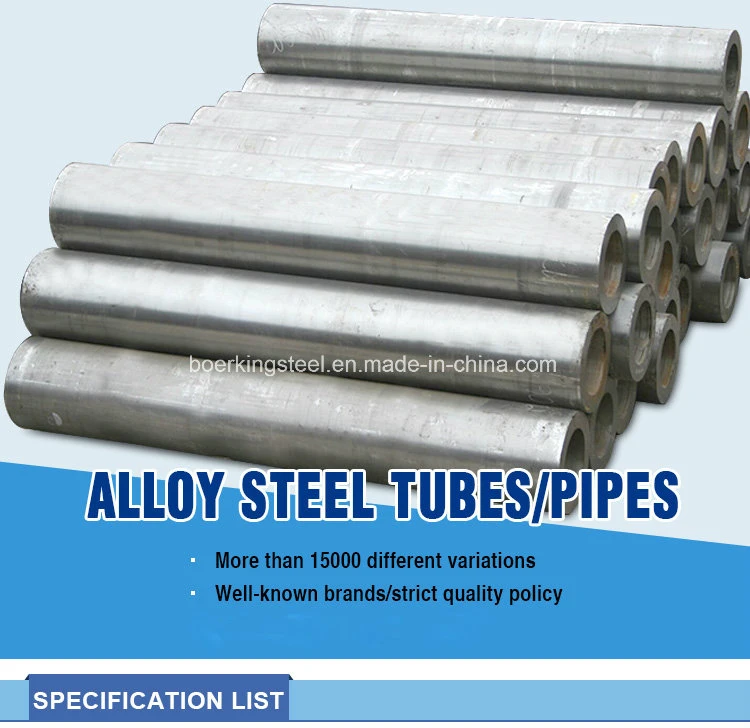 Product Description
ASTM 4130/4140 Alloy Seamless Steel Pipe is medium carbon alloy grades, which are widely used for many general purpose applications that require high tensile strength and toughness. The addition of chromium and molybdenum as alloying elements, combined with heat treatment, provides the combined advantage of hardness, ductility, and strength.
Delivery status of Steel Tube & Pipe:
NBK(+N) BK(+C) BKW+(LC) BKS(SR)
Package of ASTM A519 Alloy Steel Tube & Pipe:
1. Bundle Packing.
2. Plain end or vanished as per customer's request.
3. Wrapped in waterproof paper.
4. Sackcloth with several steel strips.
5. Pack in heavy tri-wall boxes.
Material:

AISI4140, AISI4130,SCM440,SCM430

GB5310-2013 Standard: 20G,25MnG, 15MoG,15CrMoG, 20MoG, 12CrMoG, 12Cr2MoG, 12Cr1MoVG, 12Cr2MoWVTiB, 10Cr9Mo1VNb, 15CrMoG, 10CrMo910,

ASTM A209M/AS-209M Standard A209T1/SA209 T1, A209 T1b/SA-209 T1b, A209T1a/SA209 T1a

ASTM A210M/SA-210M Standard A210 A1/ SA-210 A1, A210C, SA-210C

ASTM A213M/ASME SA 213 M Standard: T2, T5, T9, T11, T12, T22, T23, T24, T91, T911, T92, T122

ASTM A333M/ASME SA-333/SA333M Standard: Gr1, Gr3, Gr4, Gr6, Gr7,Gr8, Gr9, Gr10, Gr11
ASTM A334M/ASME SA-334/SA334M Standard: Gr1, Gr3, Gr6, Gr7,Gr8, Gr9, Gr11

ASTM A335/ASME SA335 Standard: P1, P2, P5,P5b, P5c, P9, P11, P12,P21,P22,P23, P24, P91, P92

ASTM A519 Standard: 4118, 4130,4135,4137,4140

ASTM A691 Standard GRADE 91, CM65, CM70, CM75, CMSH70, CMS75, CMSH80,

ASTM A691 Standard GRADE 1/2 Cr, GRADE 1CR, GRADE 1 1/4 CR, 2 1/4 Cr, 3CR, 5CR, 9 CR

DIN17175 Standard: ST35.8, ST45.8, 15Mo3, 13CrMo44, 10CrMo910, 14MoV63,12Cr1MoV

EN10216-2 Standard: P195GH, P235GH, P265GH, 13CrMo4-5, 10CrMo9-10, 16Mo3, 10CrMo5-5, X10CrMoVNb9-1

JIS G3458 Standard: STPA12, STPA20, STPA22, STPA23, STPA24, STPA25, STPA26

JIS G3441 Standard:SCR420 TK,SCM415 TK, SCM418 TK, SCM420TK, SCM430TK, SCM435TK, SCM440TK.

NF A49-213/215 Standard: TU15D3, TU13CD4-04, TU10CD910, TUZ10CD505

Alloy C276

BS3059 Standard: S1-622-440, S2-622-440, S1-622-490, S2-622-490, S1-629-470, S2-629-470, S2-629-590

BS3604Standard: HFS625 CFS625

BS3606Standard: CFS625

Size:

O.D:6-760mm W.T:1-80mm Fixed Length: 5.8m, 6m, 11.8m, 12m, or random length as required.

Application:

1) Machinery process

2) Petroleum;

3) Aerospace;

4) Chemical;

5) Electric Power;

6) Military.

Alloy steel pipe applies to petroleum, chemical industry, electric power, boiler, high temperature resistant, low temperature resistant, corrosion resistant part.

Testing

Tensile Test, Hardness Test, Impact Test, Bend Test, Flattening Test, Flaring Test, Hydrostatic or Nondestructive Test

Technique

Hot Rolled, Cold Drawn, Cold Rolled

Package

Export standard package; bundled wooden box, suit for all kinds of transport, or be required
Product Show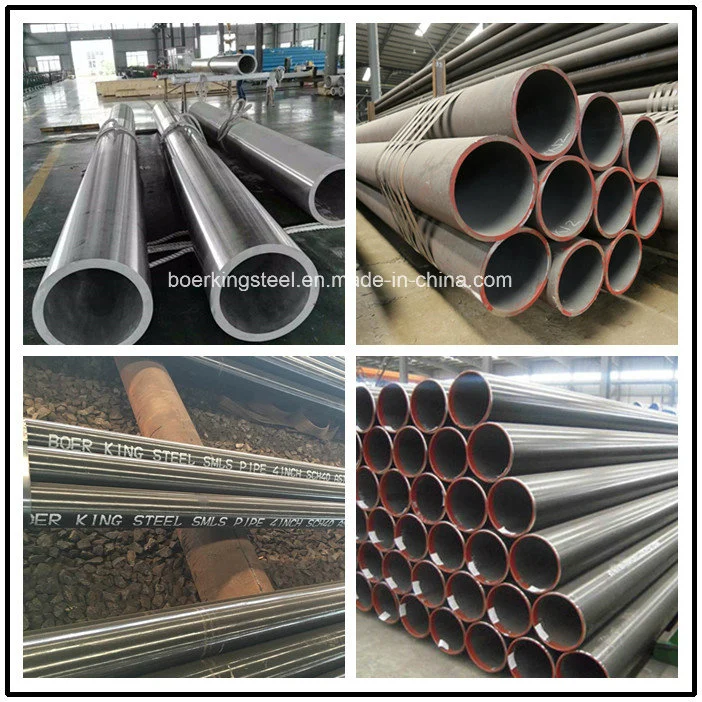 Our Advantage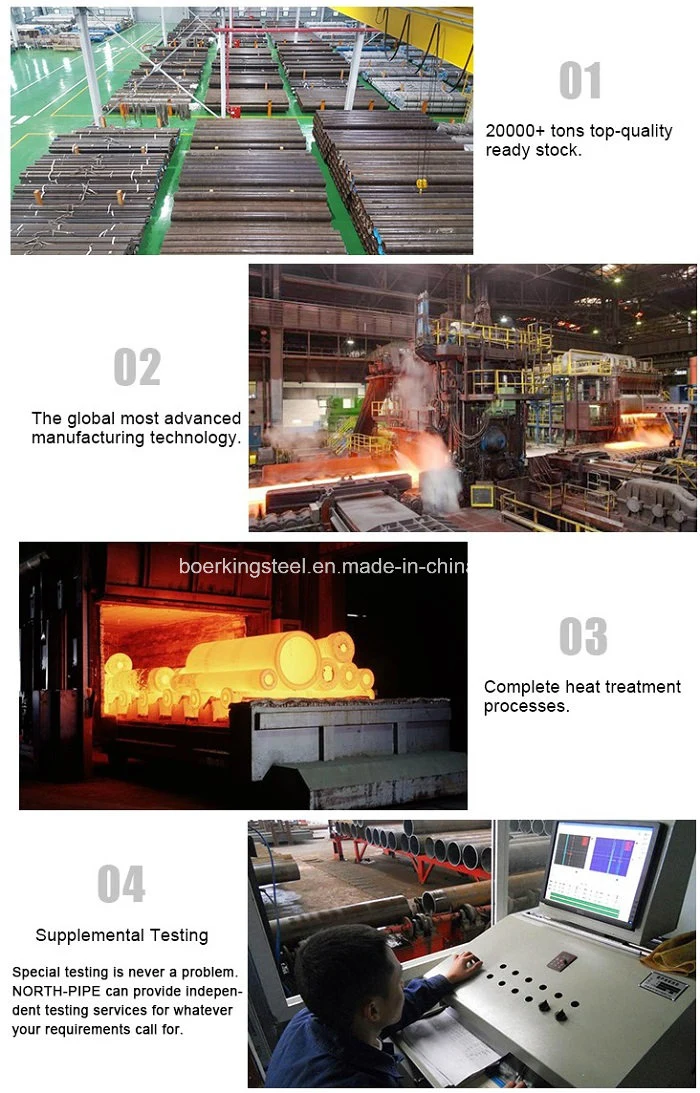 Packing and Shipping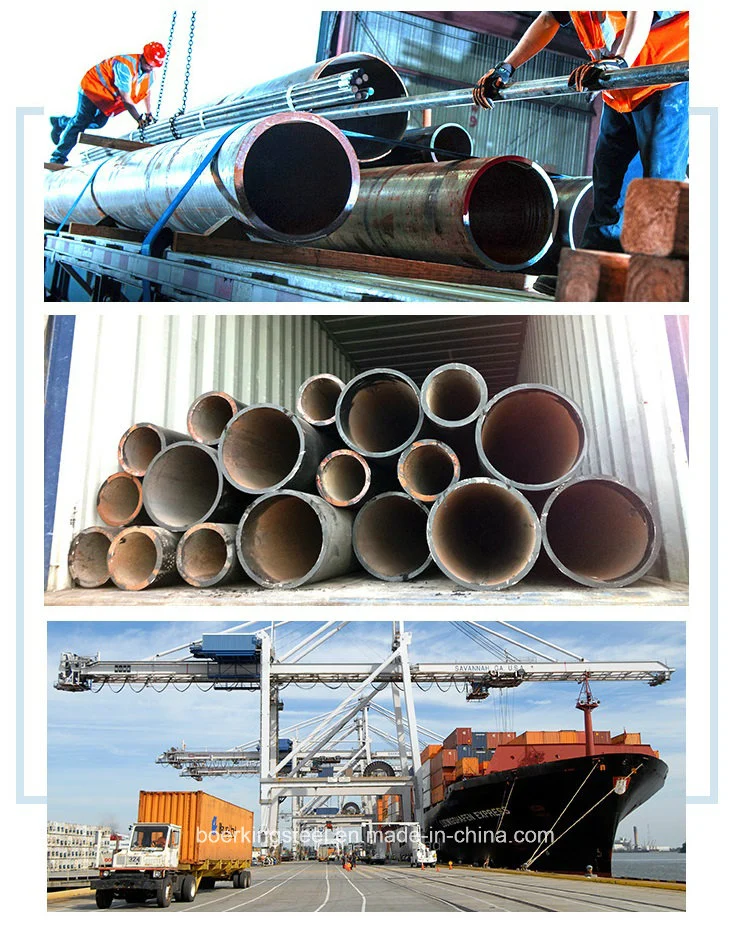 Shipping--
-
by container (Apply to a few or common quantity) or in bulk ( Apply to huge quantity)
Container sizes:
20ft GP:5898mm(Length)x2352mm(Width)x2393mm(High)
40ft GP:12032mm(Length)x2352mm(Width)x2393mm(High)
40ft HC:12032mm(Lengh)x2352mm(Width)x2698mm(High)
For 20feet container load 25tons-28tons pipes whose max. length is 5.8m.
For40feet container load 25tons-26tons pipes whose max. length is 12m.
Our Company and Exhibition
Tianjin Boer King Steel Co.,Ltd. is located in Shuang Gang industrial zone of Jinnan district ,Tianjin. Our company is 36km away from Tianjin port, 6km away from Tianjin airport and 40km away from Tianjin railway station.
We have established quality management system according to ISO9001:2008 and carry out the total quality management. Now, We sell 160,000 tons steel pipes per year, including the steel pipes for the high, medium and low pressure boilers, shipping, transporting liquid products, the petroleum cracking process, the fertilizer facilities, the structure ,the hollow sucker rod , oil well casing and drill pipe, galvanized steel pipe and some stainless steel. Provide high quality products to in different industries customers .

In recent years, the company products are not only sold well in domestic market but also exported to different countries and areas in the world. Our products are very popular in the overseas market. A number of overseas well-known enterprises have established a long-term business relationship with us.

Warmly welcome customers home and abroad to visit our company and give us valuable suggestions. We would like to have long term cooperation with customers from all over the world on the basis of mutual prosperity and development.
Thank you!
Contact:

Cindy Yang

Boer King Steel Group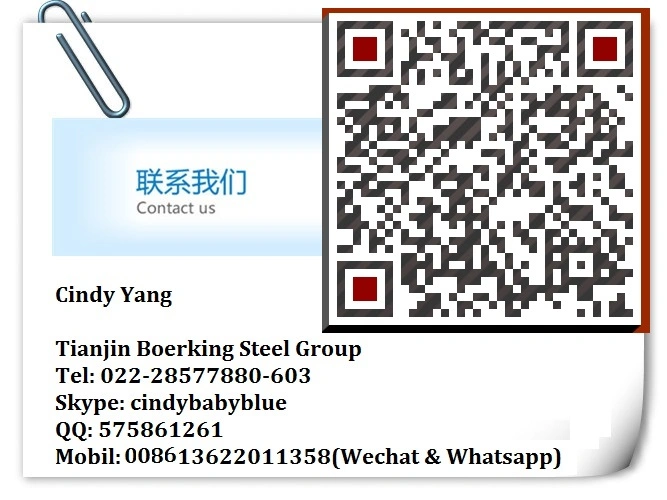 Pls. do not hesitate to contact me if you have any question!


You are welcomed to visit our factory!!!